Ambition Mods – Akira – A collaboration between Galactika Mods and Ambition Mods has brought this stylish single 18650 75W mod to life, with simplistic features and an ergonomic design, this mod is definitely one to keep your eyes on.
The Akira mod weighs only 87.5g, with a height of only 77mm, this discrete mod is perfect for fitting into pockets and bags, but most importantly it feels great in the hand. The Akira is powered by a single 18650 battery (not included) and runs at a maximum 75W. This mod is great for mouth to lung tanks or lower wattage sub-ohm tanks that don't require a large amount of power. The maximum diametre for tanks on the Akira is 25mm so the majority of tanks will be able to fit.
The Akira features a simple user interface, showing the resistance of your coils, the wattage, voltage and amps. Navigating the device couldn't be easier, with only five clicks of the fire button to turn the device on and off, and the +/- adjustable wattage buttons are on the base of the device. Holding down the +/- buttons will lock the wattage of the device. Once the device is locked, the menu to alternate between watts, SS-316, nickel 200 and titanium is accessed by pressing either up or down twice in a row. The Akira also features safety features including short protection, 10 seconds cut off, overheat protection and low-voltage protection.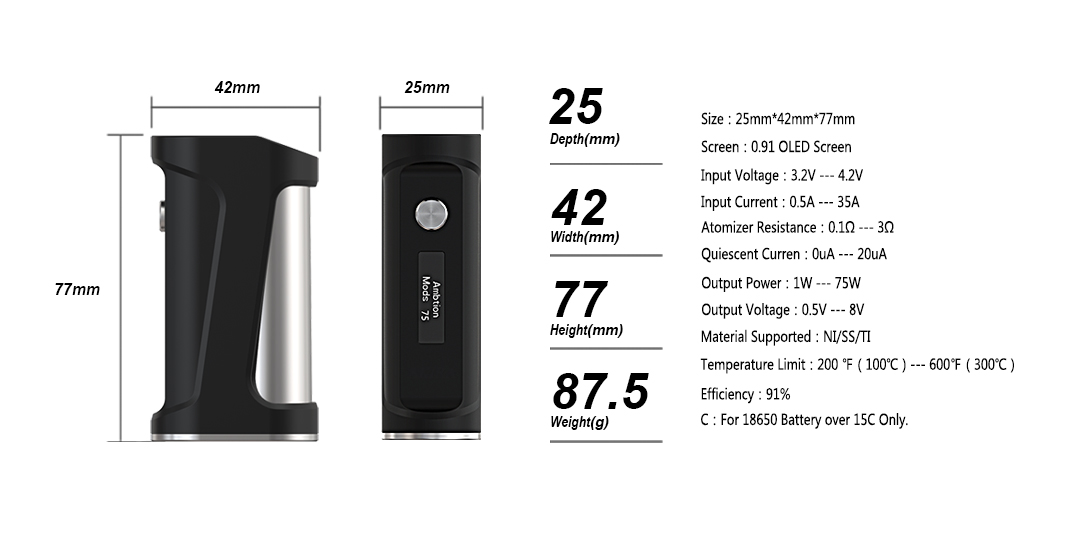 Features:
Powered by single 18650 battery with max 75W output
Support VW/ TC(Ni, Ti, SS) modes
0.91" OLED screen
510 spring-load, match 510 tanks(best 22-25mm diameter)
Check atomizer
Short protection
Overcurrent protection
Memory mode
Overheat protection
Low-voltage protection